PIFL: Pay It Forward Lottery
The idea behind pay it forward lottery is to give back to those who buy tickets in advance of the festival. Funding a festival in advance is one of the biggest headaches of any promoter and therefore PIFL has been launched to give people something back for their loyalty.
For every weekend adult ticket purchased, you will get one entry into the monthly PIFL draw. Your order number will be in the draw once for each adult weekend ticket purchased.
If you buy 2 weekend tickets in the first month, you will be in 12 prize draws with both tickets giving you 24 chances to win a prize. You can win every month, there are no limits. Therefore, the earlier you buy, the bigger the chance of winning!
We will be offering 1 prize each month of a £10 voucher to spend at Breaking Bands Festival 2023. You can cash this in at the bar, on food or any of the awesome traders that will be there. You can even use it against a transaction on band merch or tickets for the following year (we will reimburse the voucher to whomever you cash it in with).
At certain times throughout the year, we may double the prize or offer multiple prizes in a month so look out for the announcements.
So all you need to do is buy your weekend tickets early and you could have your weekend paid for next year!
*Please note this goes for full paid tickets only and does not include kids tickets or deposit tickets.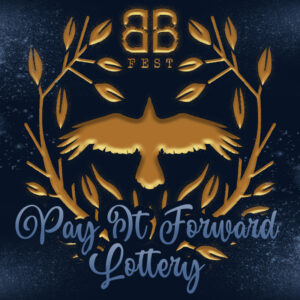 £10 Winners
May 2022: Karen G
June 2022: Sandy L
July 2022: Jens B
August 2022: Andrew N
September 2022: Sarah H-S
October 2022: Julia L
November 2022: James A
December 2022: Kim H
January 2023: Miranda C
February 2023: To be announced