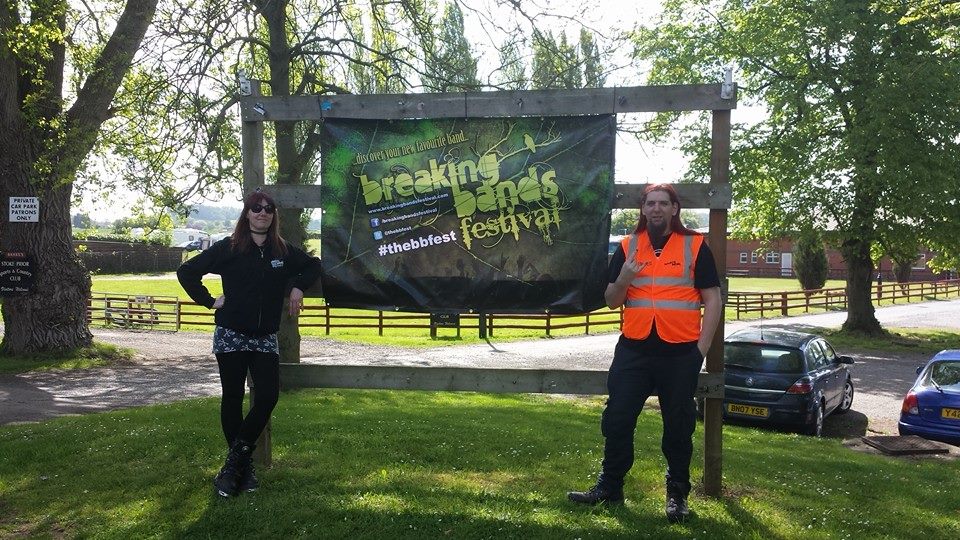 Breaking Bands Festival was a brand new event to be added to the music calendar of 2015. The sole aim of the event is to bring the very best of the bands of the future into one place to open up the festival season and show what they can do.
The event opens up late May bank holiday weekend with 3 days action packed with rock, punk and metal bands from all over the UK mixing up the genres so there is always something for everyone.
Taking notes from the past 20 years of attending festivals and events, the organisers have put a year of planning into the good, the bad and the ugly to come up with a festival they would pay to go to themselves.
Rounding off each festival weekend the organisers have specially selected bands of a higher level but still within reach of their fans. Bands that the future bands would like to level up to and bands that do not have the ego attached to them of being super rockstars. These additions will be special guests invited by the festival to not only play for the fans but for the bands too.
2015: BREAKING BANDS FESTIVAL I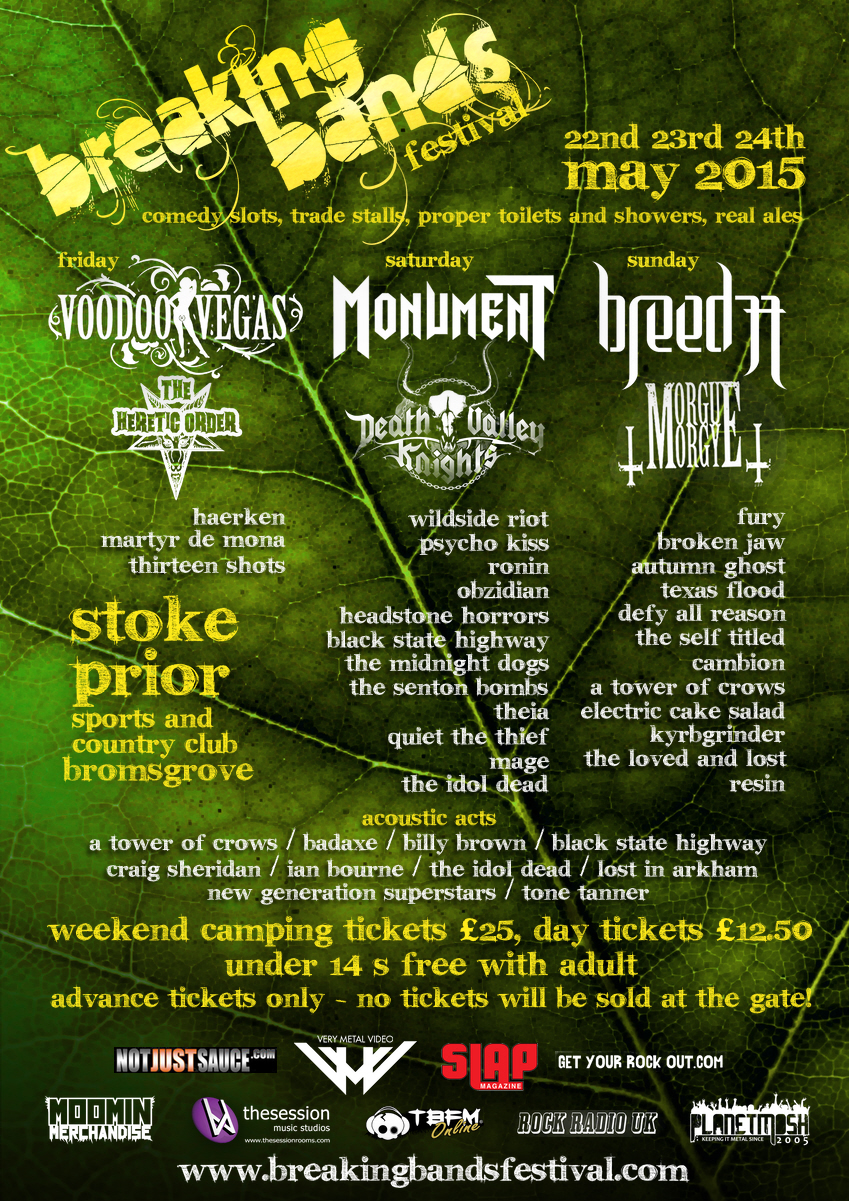 2015: The first year of the festival was always going to be testing. Although the organisers were known in the music industry, the festival scene was struggling as many festivals both large and small had cancelled due to lack of ticket sales. With a stunning line-up though of small underground bands getting a shot on a big stage along with the our first special guests Breed 77, who incidentally retired on stage at the festival after a stunning cover of The Cranberries song 'Zombie' which became and still is adopted as the festival's theme song played each year by a different band. The festival sold out of tickets 4 weeks before event time which took financial pressures off the organisers too, although they did pledge to put the festival on whether one ticket sold or five hundred by guaranteeing the finance themselves.
The news of this brand new 2 stage festival spread very quickly on social media leading to a surge in ticket sales for 2016 along with recognition's from the UK Music Industry Awards with 4 nominations and one finalist place (of just 4 festivals).
Nominated: Best Small Festival – UK Music Industry Awards 2015
Nominated: Best New Festival – UK Music Industry Awards 2015
Nominated: Grass Roots Award – UK Music Industry Awards 2015
Nominated: Best Toilets – UK Music Industry Awards 2015
FINALIST: Best New Festival – UK Music Industry Awards 2015.
2016: BREAKING BANDS FESTIVAL II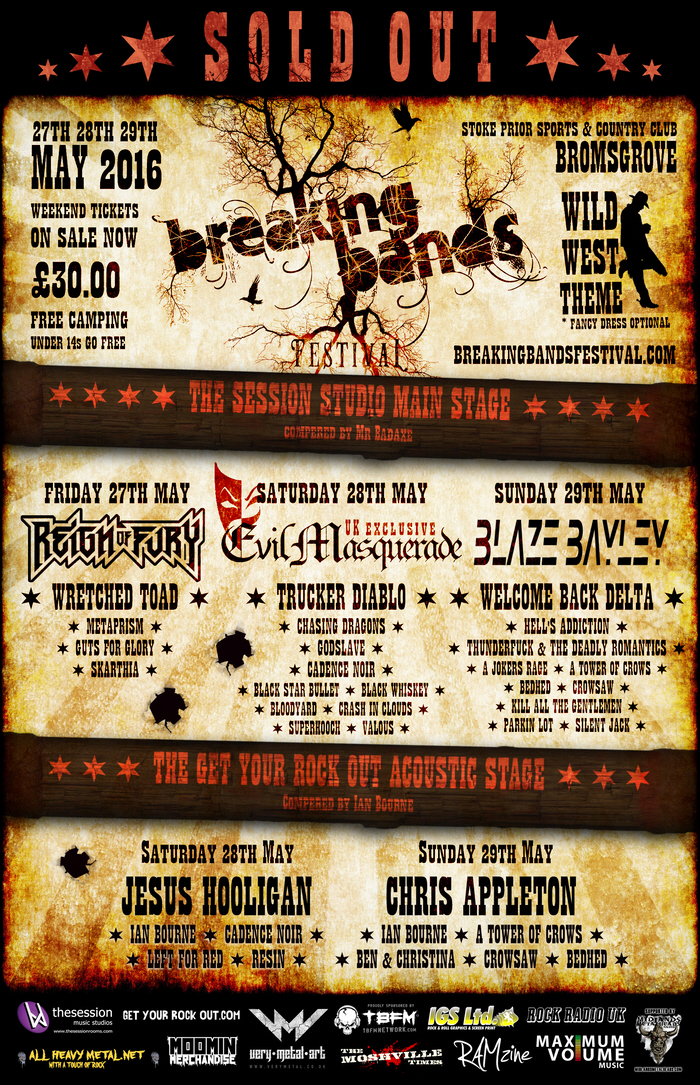 As we headed towards 2016, the number of bands applying increased, along with the interest from the public which lead to the festival selling out a full 10 weeks before event weekend. A superb special guest once again in the form of local man, ex Iron Maiden singer Blaze Bayley who stunned the crowd after 3 continuous days of rock and metal. Blaze thanked the crowd, the staff and the bands for coming out and supporting the grass roots festival and even said 'I, like you, am a breaking band. Thank you, thank you, thank you'. The festival theme was Wild West with added entertainment including a rodeo bull that everyone took turns in having a go on. The acoustic stage was such as success from the first year that it was now a permanent fixture along with the pledge to continue with not clashing bands on any 2 stages at all throughout the weekend.
Once again, the UK Music Industry Awards got in touch after the festival with another bunch of award nominations for the festival but this time Obscure Chaos Magazine also got in touch. Though the festival did not win any of the 4 nominations with UK MIA, they were finalists again but this time in 2 categories. The festival team were very pleased to scoop 2 awards with Obscure Chaos with Best Festival and Best Stage Crew.
Nominated: Best Small Festival – UK Music Industry Awards 2016
Nominated: Grass Roots Award – UK Music Industry Awards 2016
Nominated: Best Toilets – UK Music Industry Awards 2016
Nominated: Best Family Festival – UK Music Industry Awards 2016
FINALIST: Best Small Festival – UK Music Industry Awards 2016
FINALIST: Best Festival for Emerging Talent – UK Music Industry Awards 2016
WINNERS: Best Festival 2016 – Obscure Chaos Zine 2016
WINNERS: Best Stage Crew 2016 – Obscure Chaos Zine 2016
2017: BREAKING BANDS FESTIVAL III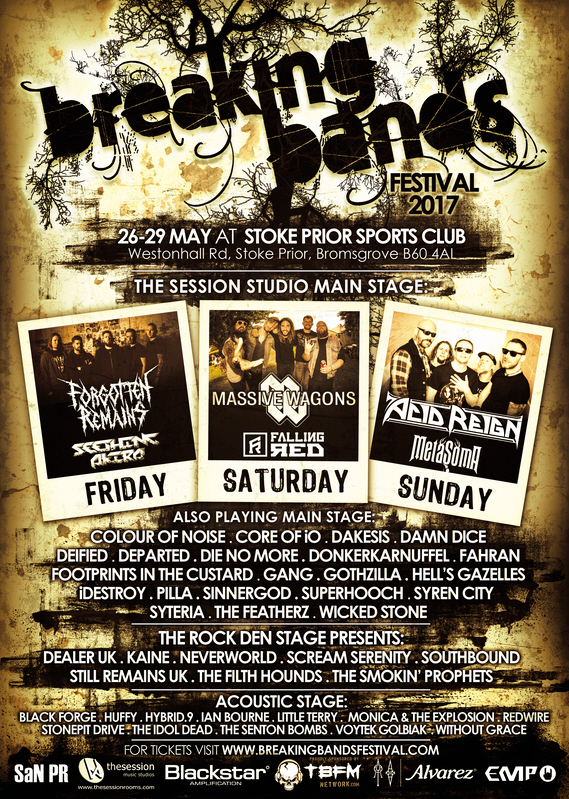 Onto 2017 and by this point, the festival would be selling itself. Scores of bands applying to play (in their thousands) not just from the UK but from around the world as Breaking Bands Festival pledged that all bands wanting to play the festival from opening slots to headline bands will be chosen from applications as that was the fairest way in the organisers opinions. With 50% of the tickets sold during the 2016 festival weekend for the following year, there was an application to the council to expand capacity which was granted. A larger stage for outdoors was sought and 2 stages became 3 with 2 electric stages and the very popular acoustic stage still in action. This year's event became known as one of the most mixed and heaviest weekends in the festival's history with a massive range of sub genres to include goth, industrial, punk, death metal along with sleaze, blues, classic rock and heavy metal. Possibly still the most requested band to come back was the Saturday headliners Massive Wagons who are now of course enjoying huge success across the UK and Europe. Sunday special guests this year was Acid Reign coming back on the scene after a 24 yea hiatus. Not a bad way to complete another highly successful festival weekend.
Nominated again at the UK Music Festival awards for 3 awards and finalists in 2 of them was a huge achievement for the festival which was now a massive successful event and had a lot of people feeling very confident in the organisers and the fact they kept to their word and kept the festival independent and about the underground music scene.
Nominated: Best Small Festival – UK Music Industry Awards 2017
Nominated: Best Family Festival – UK Music Industry Awards 2017
Nominated: Grass Roots Award – UK Music Industry Awards 2017
FINALIST: Best Hospitality – UK Music Industry Awards 2017
FINALIST: Best Promoter – UK Music Industry Awards 2017
2018: BREAKING BANDS FESTIVAL IV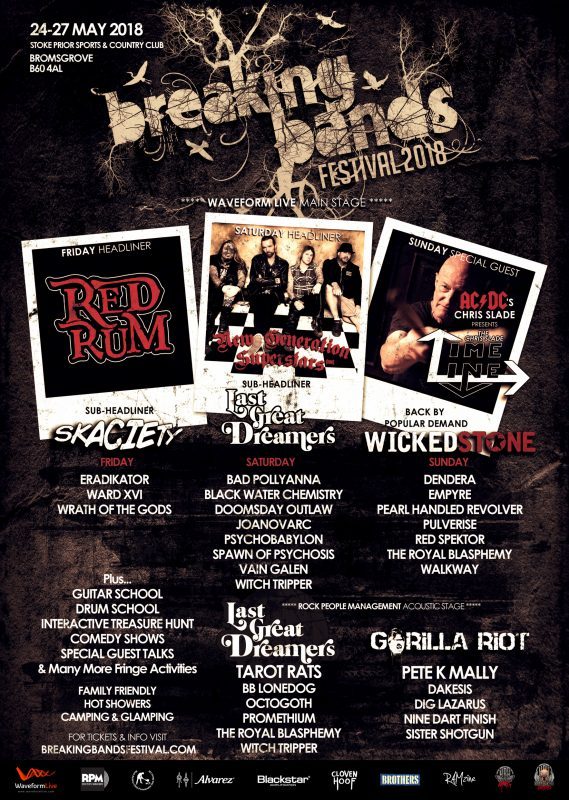 2018… well, what can be said! Possibly the most unforgettable for so many. Here is a back story: Co-Director Mucka Jay is a huge AC/DC fan. Back in 2014 he was chatting backstage to former AC/DC drummer Chris Slade at a festival. Chris was known as the man who created that noise known as THUNDERSTRUCK, one of Jay's all time favourite songs. So while chatting to Chris about his amazing career spanning more than 50 years, he put in a cheeky ask about whether Chris would come and play the festival as special guest under his band name The Chris Slade Timeline. Chris was delighted and said he would be interested and to get back to him in a few weeks. Unfortunately for the festival, Chris contacted them to say it was not something he could now do (nothing was agreed at this point), as he'd been asked to replace Phil Rudd as drummer again for AC/DC and go out on the Rock Or Bust tour. Who was we to argue with that huh!
Some 12 months later and an email arrives saying Chris is still interested, are we… erm YEAH! And when that news broke, sales went crazy. Chris was going to be seen in a small venue in Bromsgrove by true rock fans, supporting an independent festival and the icing on the cake… bringing the Rock Or Bust drum kit to play on!!!
Obviously the festival is about the underground, the up and coming but also the special guest slot is about aiming high as a band. Seeing what others have achieved (Chris was Tom Jones' drummer as a teenager) we hoped would also inspire bands and music fans. There was a huge 3 stage set up once again in 2018 with pirate metal, a first introduction to the festival to ska music, the extension of the festival to include Thursday night warm up party and we also introduced the drum school where kids could take a shot at a drum kit with theory and practical and 2 best students of the weekend got to play a set in front of the packed stage just before Chris Slade closed the 4th BBFest. Unforgettable indeed for everyone.
We also introduced the Breaking Bands Foundation in 2018. A membership club where fans could buy in (with the funds helping to develop the festival in years ahead) and get rewards such as money off tickets and merch, their own membership card, affiliate sales pack and more. Those folks again at the UK Music Festival Awards saw this and nominated the festival for the Innovation Award where the festival was runners-up.
Nominated: Best Small Festival – UK Music Industry Awards 2018
Nominated: Grass Roots Award – UK Music Industry Awards 2018
FINALIST: Best Small Festival – UK Music Industry Awards 2018
FINALIST: Innovation Award (for BBFest Foundation) – UK Music Industry Awards 2018
2019 BREAKING BANDS FESTIVAL V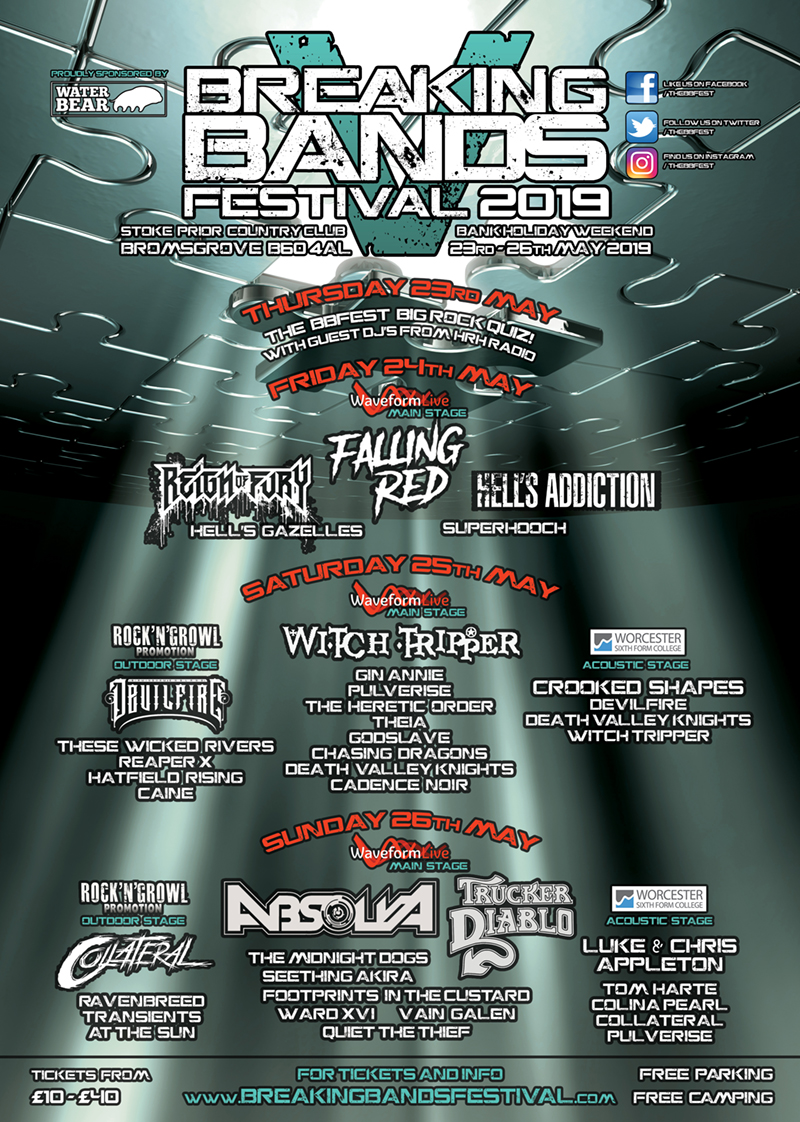 2019 was the festivals 5th year and in celebration of that, the organisers wanted to invite some of the bands back from previous years. The festival had grown to double the original capacity for 2019 and they felt this would be a great milestone to celebrate with some of the bands. Offering the public the vote on who should be on the line-up, the full festival was announced with 5 bands from each of the previous 4 years and 5 new bands to be added because as the festival's motto is 'Discover Your New Favourite Band' there had to be some new bands too!
Year 5 was very special for so many reasons. The line-up being dictated by the fans for a start! The 3 stage set up continued along with the drum school not to mention the crazy pyjama party for the acoustic stage and the retro game fancy dress which went down a storm! Absolva, a Manchester rock band who is fronted by Brothers Luke & Chris Appleton (Luke from Iced Earth, Chris from Blaze Bayley's band) played in 2016 backing Blaze Bayley but because they had such busy band schedules elsewhere, it took a 2 year advance booking to get Absolva to Breaking Bands Festival, much to the delight of the crowds! It has to be said, the organisers were worried the crowds may not take to this returning bands idea but the fans picking their own 3 stage festival line-up… what is not to like as a music fan?
The awards once again produced two finalist places but still no win from the UK Music Industry Awards. Its the taking part that counts though and the organisers are more interested in winning the ears of music fans than awards.
Nominated: Best Small Festival – UK Music Industry Awards 2019
Nominated: Grass Roots Award – UK Music Industry Awards 2019
FINALIST: Best Small Festival – UK Music Industry Awards 2019
FINALIST: Grass Roots Award – UK Music Industry Awards 2019
The festival sold out the inaugural event in 2015 with 4 weeks to spare. For 2016 with an increased capacity, the festival again sold out but this time with 10 weeks to spare, this trend continued into 2017 when the festival sold out a full 3 months ahead. 2018 festival is on the way to selling out and then another expansion for 2019 which sold out twice!
2020: BREAKING BANDS FESTIVAL VI (Virtual 1)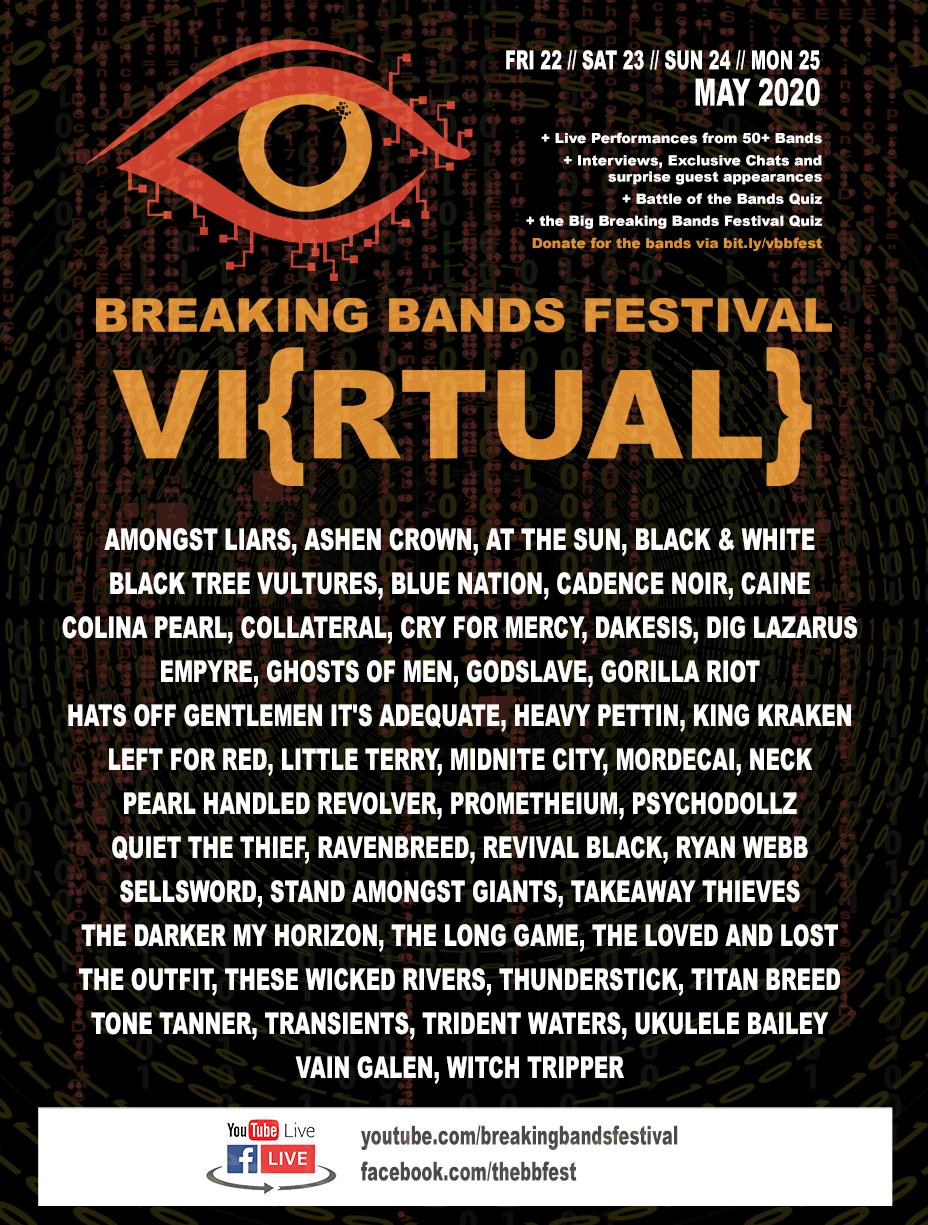 2020… the year that almost did not happen! Well, the festival sales went so well, it was down to the last 20 tickets at Christmas, a full 5 months ahead of the festival weekend. Then Covid-19 struck the world. Horrific to see the number of deaths globally that put life into prospective. As the virus grew across from China and into Europe and the UK, the organisers had no doubts whatsoever about cancelling/postponing the festival for the sake of health and safety to the staff, the volunteers, bands and customers.
The announcement was made on the festival Facebook page on live video by an emotional Director who explained the reasoning but gave some hope by announcing the Breaking Bands Virtual Festival and also announcing that all the bands due to play 2020 will be moved over to 2021 and some will also take part in the virtual festival along with past bands of the previous 5 years.
Well, it had its own challenges but with the help of the team, 48 bands and 10 interviews were streamed live across Youtube and Facebook channels during the original festival weekend. Over £2,200 was raised which was split between the bands and the festivals supported charity, Rock Against Child Pornography and Abuse UK.
The organisers also ended with a virtual quiz with hundreds taking part via their mobile devices. Such was the success, a second virtual festival has been announced for Halloween 2020.
2020: BREAKING BANDS FESTIVAL VI (Virtual 2)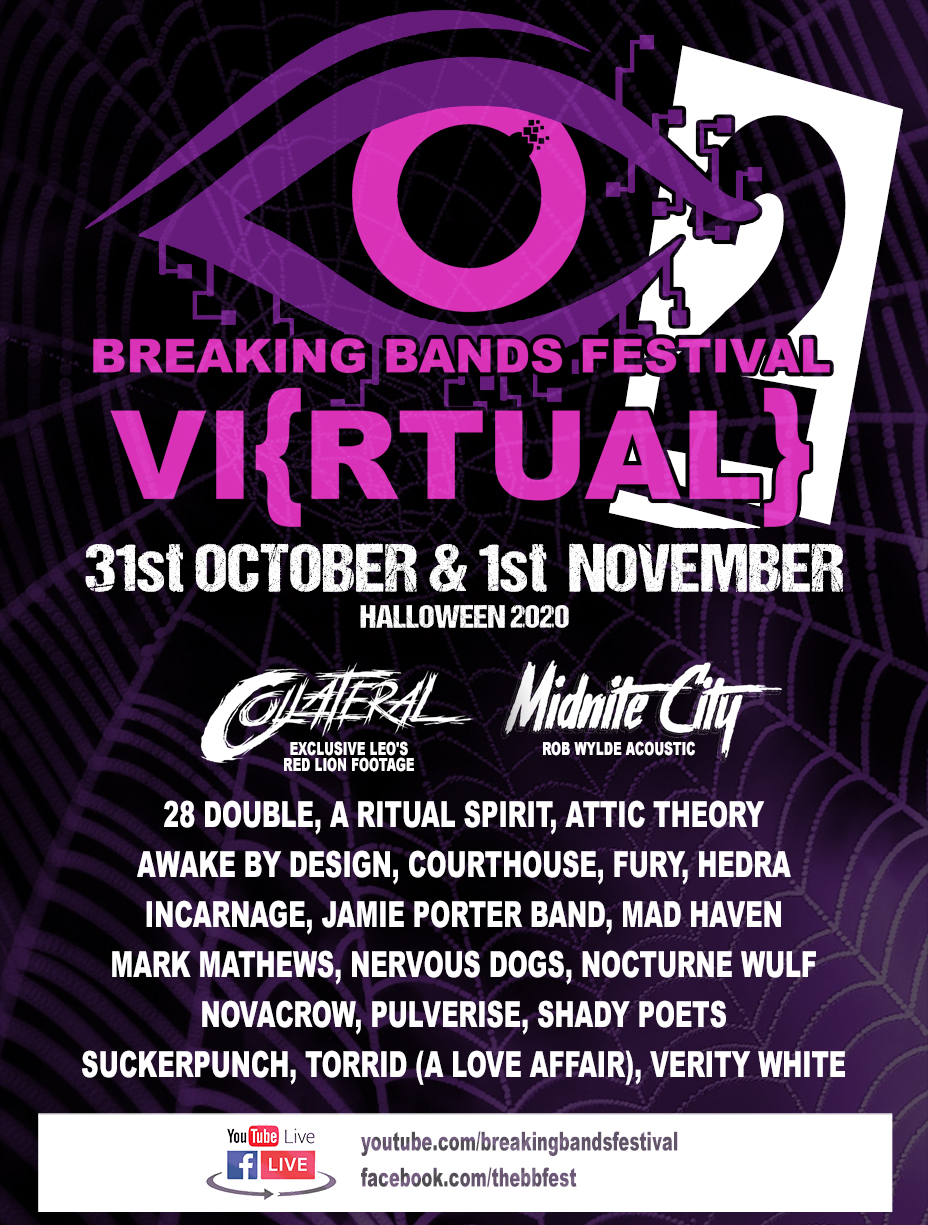 As the year went on, it was only giving out more doom and gloom. Lockdown part 2 was coming so we decided to do another virtual festival. A slightly smaller affair this time but yet again a quality line up of bands which included both the Saturday and Sunday headliners for the next festival (the 2020 one that went to 2021 and then to 2022 *this list is not exhaustive).
Halloween weekend seemed the perfect time to put together 2 days of back to back rock, punk and metal with many of the community's favourite bands and a whole host of new names mixed in for good measure.
2021: BREAKING BANDS FESTIVAL FUNDRAISER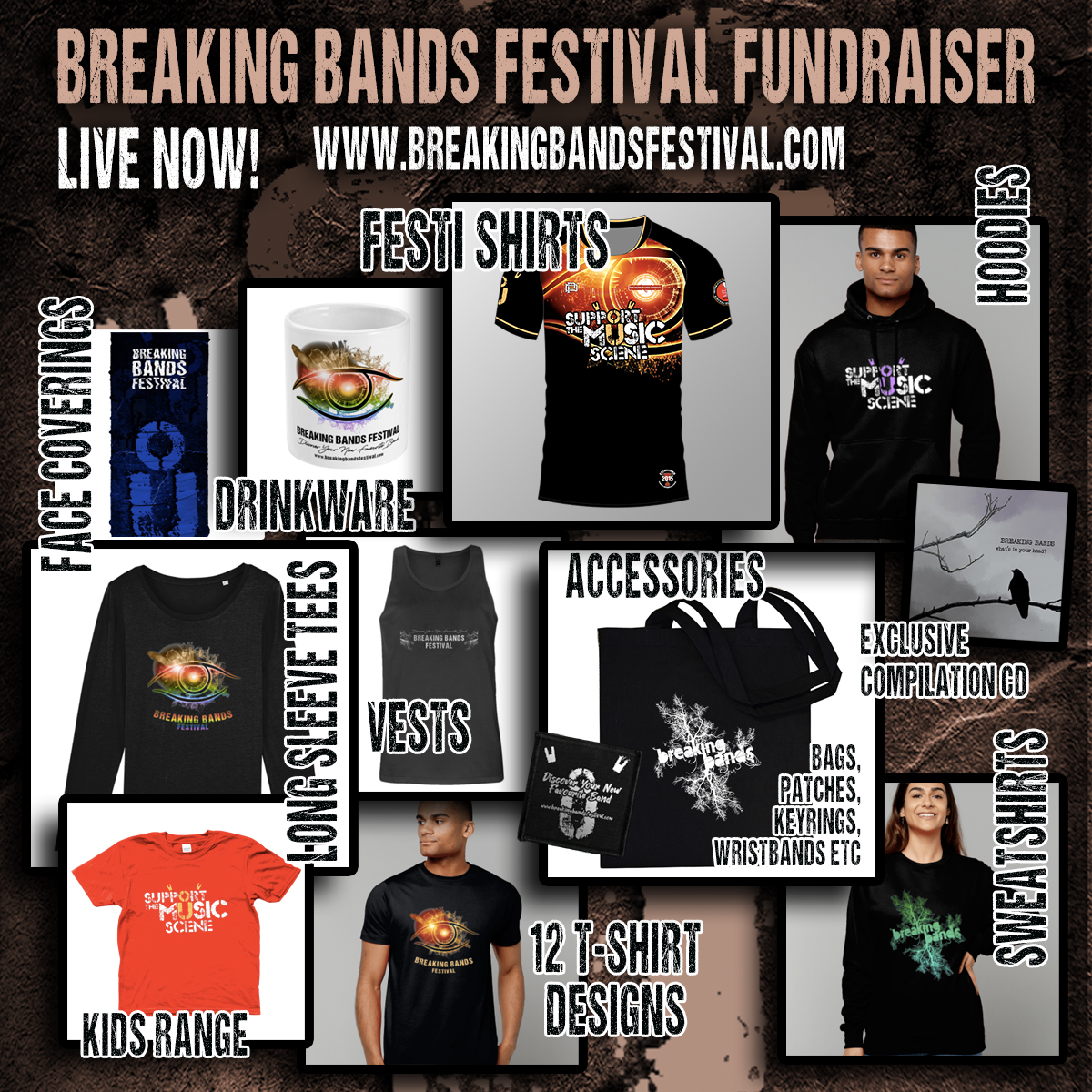 So this is not actually a festival but a festival fundraiser. After the news about the festival needing to be postponed for a second year running, we found ourselves in a bit of a financial hole.
If the festival had survived the first postponement and went live in 2021, things wouldn't have been so bad but bouncing it 2 years running takes its toll on the finances.
After a number of team meetings it was decided that the shortfall of £5,000 which covered some of the losses such as our license fees, advertising, accountant fees, deposits we lost, website fees etc we needed to find a way to recoup this.
Many other festivals, venues and other businesses also found it hard and some set up gofundme campaigns. At BBFest, we wanted to offer something instantly back and as we were creative we felt a full brand of merch could help.
On 26th March 2021, a full catalogue of 180+ products were put on sale through the website along with a festival double CD with tracks donated by the bands playing in 2022. Also a massive raffle was to launch as another way to help raise the money.
The festival Directors have made assurances that the 2022 festival will go ahead no matter what is raised. The funds are to save the festival from future financial issues, not having to put the ticket prices up and still being able to pay the bands.
Results of the fundraiser will be announced in due course…
2022: BREAKING BANDS FESTIVAL VII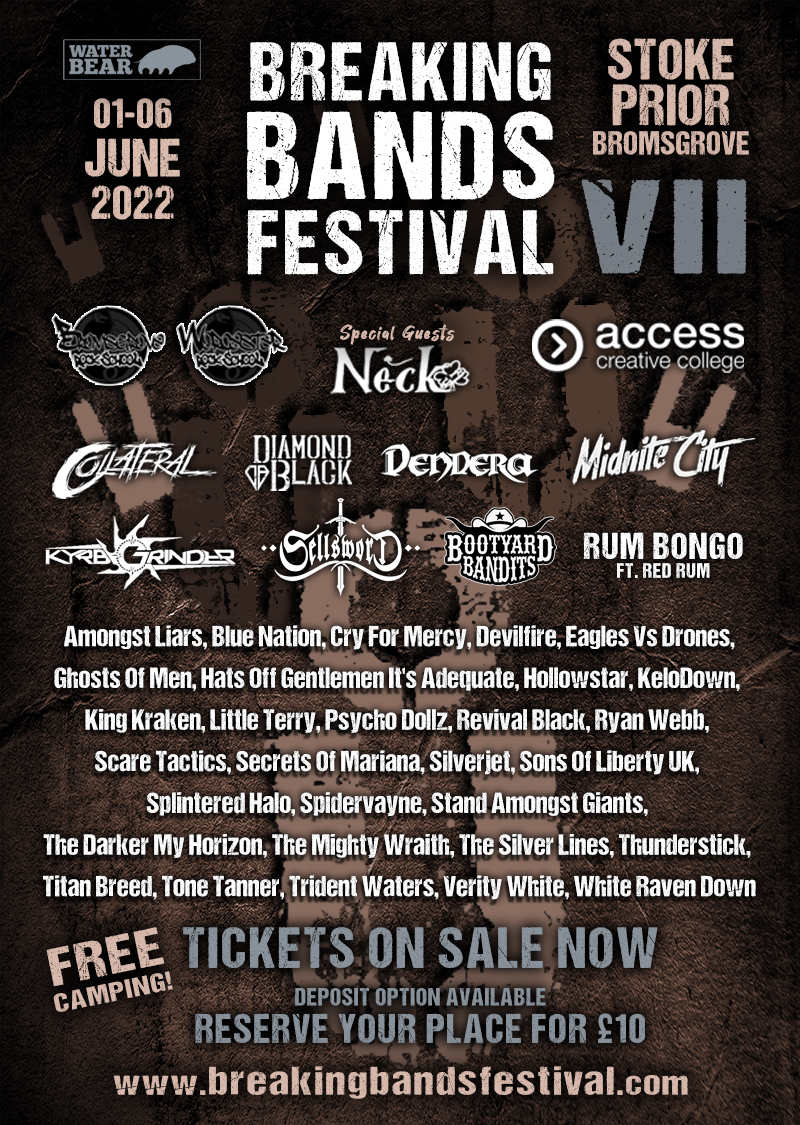 On to 2021. Not great at all as the Goverment gives details on their roadmap out of the pandemic stating that gatherings can start happeing onwards from June 2021 meaning the 2020 festival is now moving to 2022. In the interest of health and safety of all our staff, the artists and of course, the community, we postponed until next year rather than re-arrange a later date. The festival is ready and we are all raring to go, we will just have to hold off for now.
For the first time in our festival history, we have extended to a 5 day event with live music every day. Kicking off with the Bromsgrove & Worcester Rock School students on 1st June and then Access Creative College Birmingham taking over on Thursday 2nd June. Friday, Saturday and Sunday sees 3 stages open from 11am until 12.30am with none stop live music 13 and a 1/2 hours a day!
Something else a bit odd… the date is in June. This is due to the Bank Holiday moving as its the Queen's Platinum Jubilee and she's marking it with a double Bank Holiday date so we moved to keep our tradition of hosting the Bank Holiday weekend.
Some tickets are available due to requests for refunds which the festival had no problem issuing but now is the focus on next year. There are more announcements to make regarding next year, the 7th festival of Breaking Bands. Keep an eye on the website for more details.
The festival is held at the fantastic Stoke Prior Sports & Country Club, Bromsgrove, Witsun bank holiday weekend every year.