Things really are getting real now, Breaking Bands Festival is THIS YEAR!
Firstly a reminder that the festival has moved to the following week 1st to 5th June (inclusive) as the Queen's Jubilee has changed the Bank Holiday which is now Thursday 2nd and Friday 3rd June!
We have a jam packed 3 days of music starting at 10am each day Friday, Saturday and Sunday kicking off with Rockfit keep fit sessions with Nikki D!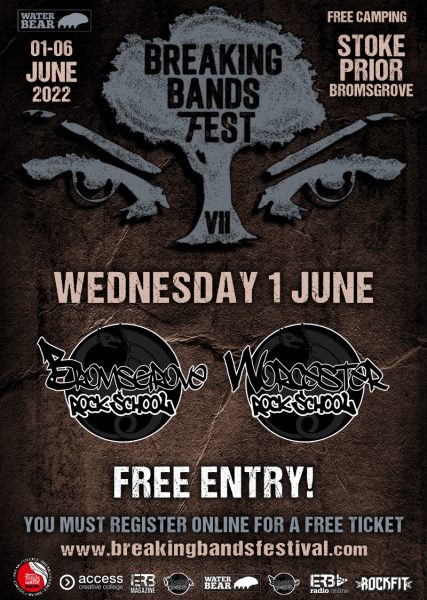 On Wednesday 1st June we have the Worcester and Bromsgrove Rock Schools heading to the stage for a free evening of entertainment. Music students aged 8 to 18 will take over the festival as we welcome the future rock stars at Breaking Bands Festival.
On Thursday 2nd June we have Access Creative College taking over as the older students showcase their skills on and off the stage. Again this will be a free entry day as part of our backing of local music and local businesses.
*NEW* If you want to attend either Wednesday 1st June, Thursday 2nd June or even both days, you must now register for a free ticket. We have to put a restriction in place for these 2 free days as it's only one stage therefore numbers will be limited. There is absolutely no cost for these tickets but there will be no entry without one so please go to the website to register your free passes for one or both days.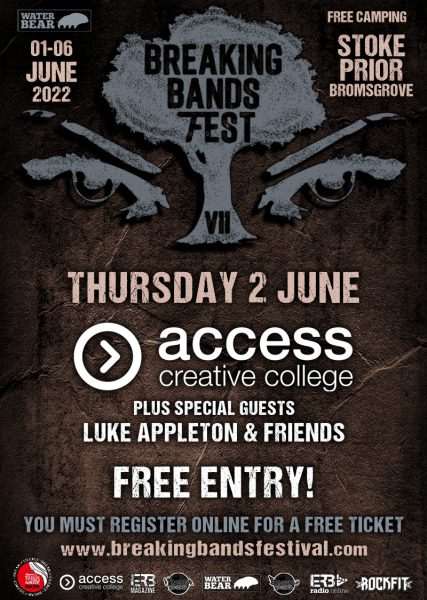 If you have a weekend pass already, then your day passes will include free camping. If you do not have a weekend ticket, you will not be allowed to camp on site for the free days. If you have an electric hook up pass, there will be no extra charge to stay the extra 2 days if you wish.
Remember, the electric hook ups are all sold out but if you want to bring your camper, there is no extra charge.
We have an added bonus for Thursday 2nd June as well. After the Access Creative College headliner has finished, we have very special guest Luke Appleton on stage from Iced Earth/Blaze Bayley/Absolva who will be ending the night with a very awesome acoustic set. Luke will have some extra guests on stage with him too. This will be the third appearance acoustically for Luke at Breaking Bands Festival and has become one of his favourites to perform at so make sure you do register for your free tickets!
Tickets are low… we have had a great run on tickets over Christmas and now have just about 30 tickets left for the weekend. If you've yet to buy one, this is your last chance as we always sell out fast once we are on that final stretch. We have left the £10 deposit option open with the balance due in March so if you don't want to miss out but are a bit short right now, grab a cheaper deposit option to secure your place.
We'll have some more news later this month too! Don't forget to register those tickets for the free days at www.breakingbandsfestival.com – if your email says it's in use, you already have your account set up so go to www.breakingbandsfestival.com/login to login or request a password reset.
See you soon!
BBFEST HQ