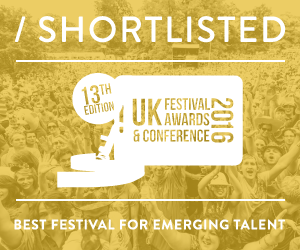 Breaking Bands Festival is very excited to announce not one but two short list nominations and the very prestigious Festival Awards UK. Having been nominated and then shortlisted for the first year festival in 2015 for best new festival, news broke last week that the 2016 edition of the sold out festival made it to the short list for best small festival alongside Bearded Theory Festival, Mammothfest and others.
Now news has just hit BBFest HQ that there is another short list place for the festival. This one is not a fan voted nomination but a judge based one. Breaking Bands Festival have been put forward for Best Festival for Emerging Talent.
Festival Director Jason McGuire said "We were really gutted last week that we didn't get short listed for the grass roots festival award but then when this news arrived it really was a surprise but pleased us so much. I was straight on the phone to co-founder Steve Jacobs who was on holiday to give him the news! Being recognised not just by the voting public but music industry professionals as a festival for emerging talent just cements what we have been doing from day 1. We are not about the big name band attractions, that can be left to the big festivals with the big budgets! We have and will continue to be all about the up and coming bands. The rising stars of the rock and metal scene. We are proud of this short list nomination and dedicate it to every single band that has graced the Breaking Bands Festival stages over the past 2 years. This is for them!"
Best Festival for Emerging Talent described on the Festivals UK website:
'Supporting emerging talent' is a virtue that many festivals lay claim to, but there are only a select few that take an active role in making sure their platform is an effective one. Stacking unknowns on a tucked away, standalone stage ensures that they'll most likely play to four of their mates, especially considering the multitude of well-established acts they'll be competing with for the audience's attention. This accolade, new for 2015, aims to recognise the efforts of the organisers that effectively help their fledgling acts connect with and grow their audience.
The awards take place 28th November when the winners will be announced.