With just over 300 days to go and 40% of the ticket capacity taken up, the BBFest team are already pleased with the way things are looking for the 5th Anniversary of Breaking Bands Festival.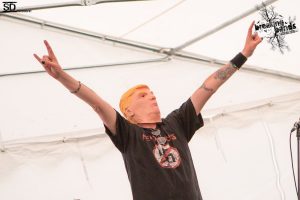 While everyone is in full festival flow, the sun shining and the music scene thriving its time to give out more information regarding next years event.
Already announced is our Sunday headliner Trucker Diablo from Northern Ireland and our special guests Absolva from Manchester. Alongside them, a dozen awesome bands returning from previous years as voted for by the ticket holders. There are another 8 bands being announced later in the Summer, again bands that have played before and were voted back by the BBFest Foundation members.
Now to announce plans on the extension of the festival. You may remember in 2017 there was a taster of an electric stage outdoors which was dropped in 2018. Well the team can now confirm that the stage is back for 2019. The main stage will still be indoors with longer sets by all bands along with an evening break.
Outside, under cover again will be stage 2 which will be the very popular acoustic stage running from morning until afternoon. We will be adding a 3rd stage under cover which will run from afternoon into the evening for full electric bands to play on. Applications will be open on 30th July via the website and the team are once again looking for up and coming talent from across the rock, punk and metal genres.
The very popular drum school will be back again and there will be a Sunday evening showcase once again where the kids will get the chance to show off their skills on stage before we head indoors for the headline band.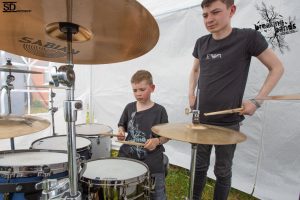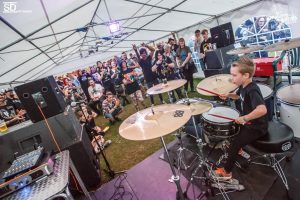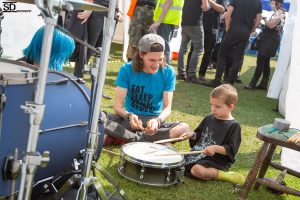 Having listened to the feedback from bands, customers, traders, volunteers and the main crew there will again be a number of changes. The outdoor stage will be moved further away from the venue, the drum school will be moved to a more convenient space that doesn't disrupt the other stages, breaks between each stage time, no clashes, more food choices and more for the kids to do. All things that have been fed through to the team and as always, much appreciated.
Festival Director Jay said "We are very excited about putting even more on the festival in 2019. Its a special year and with that, we want to make the event even more special. We really want people to come back year after year and with 40% of tickets already sold after just 2 months, our goals are already being achieved. Its great that people trust in the festival team to put on a fantastic line-up and great event and we will strive to continue this year after year."
So with all that in mind, its time to get your tickets booked and get the countdown to the opening event of the music festival calendar 2019. Prices remain at £40 (plus small booking fee) for the weekend which once again includes the Thursday for those who want to get onsite earlier. What we have planned for Thursday evening will be announced later in the year.
Tickets can be purchased from www.breakingbandsfestival.com